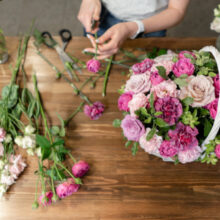 Gift-giving is an art that allows us to express our love, appreciation, and thoughtfulness to our friends and family. While it's easy to pick up a generic gift from a store, creating a personalized gift basket can make your gesture all the more meaningful. Whether it's a birthday, anniversary, or just a spontaneous act of kindness, gift baskets offer endless possibilities for customization and can suit any occasion. In this blog post, we will explore creative gift basket ideas for a variety of occasions, helping you become a thoughtful and memorable gift-giver.
1. The Ultimate Relaxation Basket
After a long, stressful day, what better gift can you offer than the promise of relaxation? Create an ultimate relaxation gift basket that includes scented candles, a plush robe, luxurious bath bombs, a soothing playlist, and a bottle of their favorite wine or champagne. This basket is perfect for anniversaries, birthdays, or even as a special thank-you gift for someone who needs to unwind.
2. The Gourmet Foodie Basket
For the food lover in your life, a gourmet foodie gift basket is sure to tantalize their taste buds. Fill it with artisanal cheeses, high-quality chocolates, a selection of fine wines, gourmet crackers, and some exotic spices or condiments. This gift basket is an excellent choice for housewarmings, dinner parties, or simply to spoil someone who enjoys culinary delights.
3. The Spa Day at Home Basket
Pamper your loved ones with a spa day in the comfort of their own home. Include scented oils, bath salts, a plush towel or bathrobe, facial masks, and a collection of calming teas or herbal infusions. This gift basket is perfect for celebrating a friend's promotion, sending get-well wishes, or just showing someone you care about their well-being.
4. The Movie Night Basket
For movie enthusiasts or those who simply love to relax with a great film, a movie night gift basket is a winning choice. Fill it with popcorn, a selection of their favorite movies or streaming service gift cards, cozy blankets, and some movie-themed snacks like gummy bears, popcorn seasonings, and licorice. It's an ideal gift for birthdays, anniversaries, or as a "just because" surprise.
5. The Gardener's Delight Basket
If you know someone with a green thumb, a gardener's delight gift basket will make their day. Include gardening gloves, a set of high-quality hand tools, seeds for their favorite flowers or herbs, and a beautiful plant pot. This basket is perfect for celebrating a new home, a retirement, or as a gesture of appreciation for their lush garden.
6. The Coffee Lover's Basket
For those who can't start their day without a steaming cup of coffee, a coffee lover's gift basket is a thoughtful choice. Fill it with a variety of premium coffee beans, a stylish coffee mug, a French press or pour-over coffee maker, and some gourmet cookies or pastries. This basket is suitable for birthdays, anniversaries, or as a token of gratitude for your coffee-loving friend.
7. The Bookworm's Basket
For the avid reader in your life, a bookworm's gift basket is a literary dream come true. Include a selection of their favorite books, a cozy blanket, a reading lamp, and a gift card to a local bookstore. This basket is an excellent choice for book club gatherings, birthdays, or simply as a surprise for someone who loves to get lost in a good story.
8. The Adventure Seeker's Basket
Is your recipient an adrenaline junkie? Create an adventure seeker's gift basket filled with items like hiking socks, a trail mix assortment, a waterproof phone case, and a travel guidebook for their next destination. This basket is an ideal choice for celebrating a milestone birthday, an upcoming trip, or as an encouragement for their adventurous spirit.
9. The Pet Lover's Basket
Don't forget the furry friends! A pet lover's gift basket is a heartwarming gesture for those who adore their four-legged companions. Include pet treats, toys, a personalized pet photo frame, and a gift card to a local pet supply store. This basket is a wonderful choice for pet adoptions, pet birthdays, or as a thank-you gift for a pet-sitter.
10. The DIY Crafty Basket
For the crafty and creative individuals in your life, a DIY crafty gift basket is a fantastic choice. Fill it with a variety of craft supplies, such as colored pencils, sketchbooks, knitting materials, or even a gift card to their favorite craft store. This basket is perfect for encouraging their artistic pursuits, celebrating milestones, or simply expressing your support for their passion.
Conclusion
Gift baskets offer a versatile and thoughtful way to express your love and appreciation for the special people in your life. Whether it's a birthday, an anniversary, or just a random act of kindness, you can always find or create a gift basket that perfectly suits the occasion and the recipient's preferences. Get creative, personalize your baskets, and watch the joy they bring to those you care about. After all, it's the thought and effort you put into your gift that truly counts. So, next time you want to make a meaningful gesture, consider crafting a gift basket tailored to the recipient's interests and watch their eyes light up with delight.
Got Questions? Let Us Help!
Since 1939, The Delicate Daisy – House of Flowers has been San Francisco's premier locally owned and operated floral destination. Roxane Rockwell and her talented team have been crafting spectacular arrangements of fresh flowers and plants for all occasions and venues for over 31 years. From weddings, birthdays, and special events; to weekly corporate arrangements, local deliveries, and gourmet gift baskets, The Delicate Daisy – House of Flowers offers unparalleled experience, service, and quality. A landmark of the Richmond District of San Francisco, our charming retail space is open to the public, and is filled with beautiful flowers hand selected from the flower market three times a week by Roxane herself. Contact us today to learn more about what we can do for you!